In nearly twenty years of business, we have really perfected what we believe to be the ideal electric guitar neck. We modeled our guitar neck shapes and specifications after the hundreds of vintage instruments we have had pass through the shop over the years. In the past decade plus, Guitar Mill necks have become the best replacement guitar necks available. By investing so much time in the design and build process, we're able to produce a guitar neck that not only look the part, but are the superior choice in comfort & playability.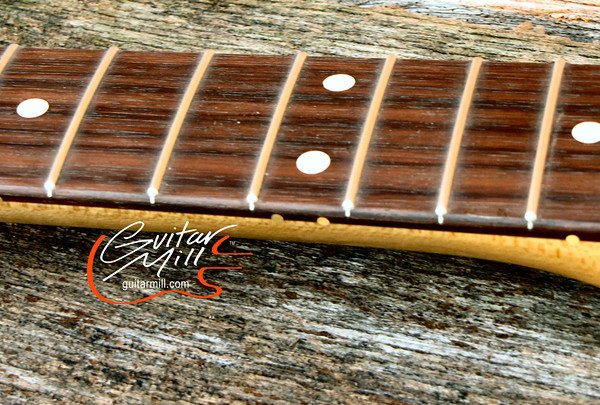 Here are a few reasons why our guitar neck is better than the rest:
Premium quality seasoned tonewoods
High-grade truss rods — double welded ends & serrated anchors
Vintage correct truss rod nut placement. The nut sits higher up; closer to the fingerboard for better access & look.
Truss rod channels routed with a ball/round nose bit — the rod sits perfectly in the round-bottomed channel.
Vintage-correct "Skunk Stripe" size
Micro precision bit CNC fret slots that follow the corresponding fingerboard radius.
Jescar Fretwire – the absolute finest available.
Each fret hand-pressed in to seat perfectly in each curved slot.
2 Pc. Neck side dots are correctly placed "50/50″
'Clay' dots that look and feel genuinely vintage
A slight amount of "fall away" is added in each fingerboard below the 12th fret. Hardly visible but very noticeable when playing – prevents large bends from "fretting out."
We carefully "roll" the fingerboard edges so that they are smooth, soft and comfortably conform to your hand.
Our frets are masterfully beveled with soft rounded ends and individually dressed.
We go the extra mile and painstakingly scrape and re-polish each fret on maple fingerboards that are sprayed with a finish.
Each Guitar Mill neck is hand-crafted and overseen by Sr. Luthier, Tim Scott, who has been building our necks for over twelve of Guitar Mill's fifteen years.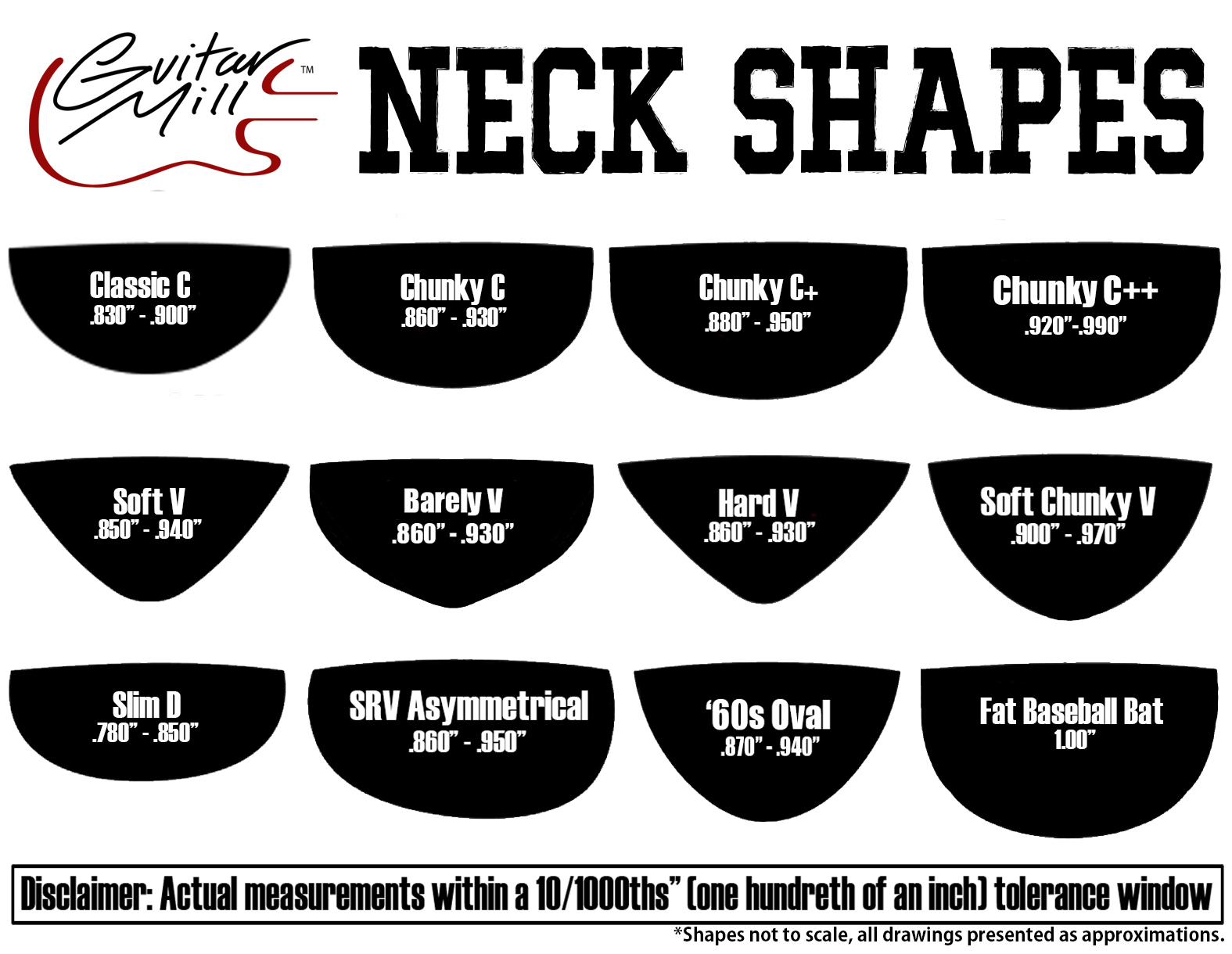 Some kind words: 
"I am writing to you at the insistence of our Plek Machine Technician, George MacPhail. We just scanned the neck you made me for its initial landscape prior to getting frets and George pulled me to the machine, showing me how accurate your tolerances are right out of the gate. Prior to this Chupacabra project, I did one utilizing an old American Fender neck that had such incredibly bad Fender-itis, it was unplayed above the 12th fret. But after some considerable adjustment, we made it perfect.
The neck from Guitar Mill is as close to perfect as we have seen on any neck, regarding straightness, evenness of the fingerboard radius, and how laterally uniform the board is. And not just by a little. I have never seen our tech NOT want to plane a board before but here we are 🙂
Kudos to you guys and thanks for the great work!"
-Mathew J., Illinois