Jazz-Style Body / 1 pc Ultra Light Swamp Ash / TruGrain Nitrocellulose Black / Closet Clean Wear (#GIN-246)
$544.00 -15%
Sale!
Jazz-Style Body / 1 pc Ultra Light Swamp Ash / TruGrain Nitrocellulose Black / Closet Clean Wear (#GIN-246)
$544.00 -15%
Body Style
Jazz-Style
Wood
1 pc Swamp Ash
Bridge Drilling
Vintage Offest Tremolo
Pickup Routing
Standard
Input Jack Routing
Standard

Weight Of Body
 3 lbs. 13 oz. 
Finish
Nitrocellulose TruGrain Black, Closet Clean Wear
Build-to-Order Price
$544
Item #GIN-246
TruGrain – This is a new finish technique we are trying out. The body is not grain filled, so it allows us to spray the finish thinner. This process removes a few ounces of weight, gives the body more resonance, shows off the beautiful wood grain patterns under the solid finish and looks super cool!
Due to the thinner finish, the body will age more quickly than our standard bodies.
Pickguard sold separately.  Pictured for modeling purposes. 
1 in stock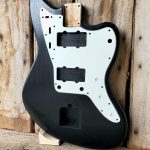 Jazz-Style Body / 1 pc Ultra Light Swamp Ash / TruGrain Nitrocellulose Black / Closet Clean Wear (#GIN-246)